Spędziłyśmy w Sewilli miesiąc i spokojnie możemy powiedzieć, że zakochałyśmy się w tym mieście. Przepiękne uliczki i zabytki na każdym kroku przyciągają swoim pięknem oraz bogatą historią.  
W ciągu miesiąca udało nam się zobaczyć wiele, ale teraz powiemy o miejscach które zachwyciły nas najbardziej w słonecznej Sewilli. 
[We spent a month in Seville and we can safely say that we fell in love with this city. The beautiful streets and monuments at every turn attract with their beauty and rich history.
Within a month we see a lot, but now we will talk about the places that delighted us the most in sunny Seville.]
Plac Hiszpański jest przepiękny. Często spacerowałyśmy tu by podziwiać piękne ławeczki wyłożone ceramicznymi płytkami i zachwycającą architekturę. Oczywiście nie obyło się bez mnóstwa sesji zdjęciowych 😉

[Plaza de España is beautiful. We often walked here to admire the beautiful benches covered with ceramic tiles and stunning architecture. Of course, we had to do a lot of photo sessions ;)]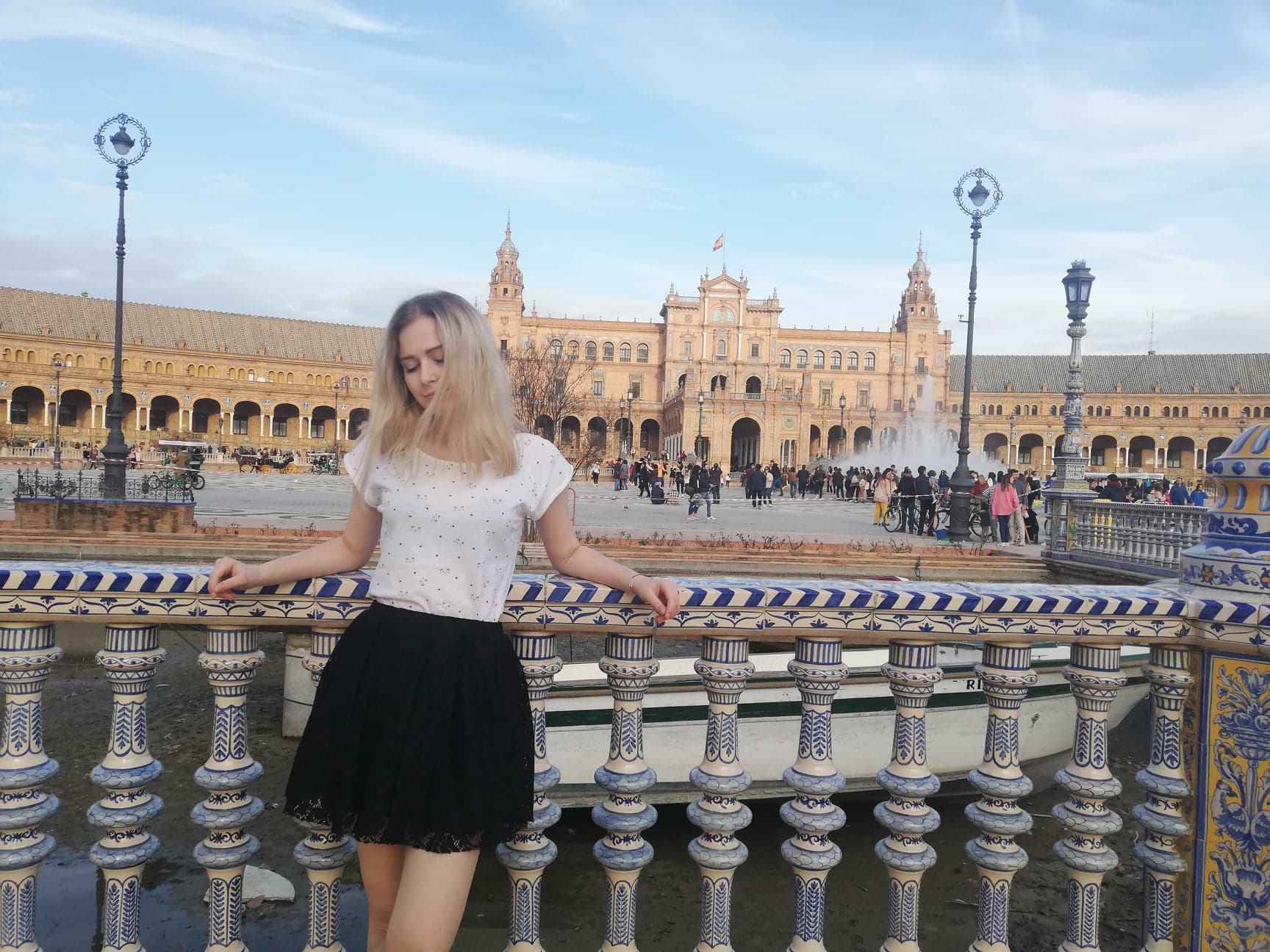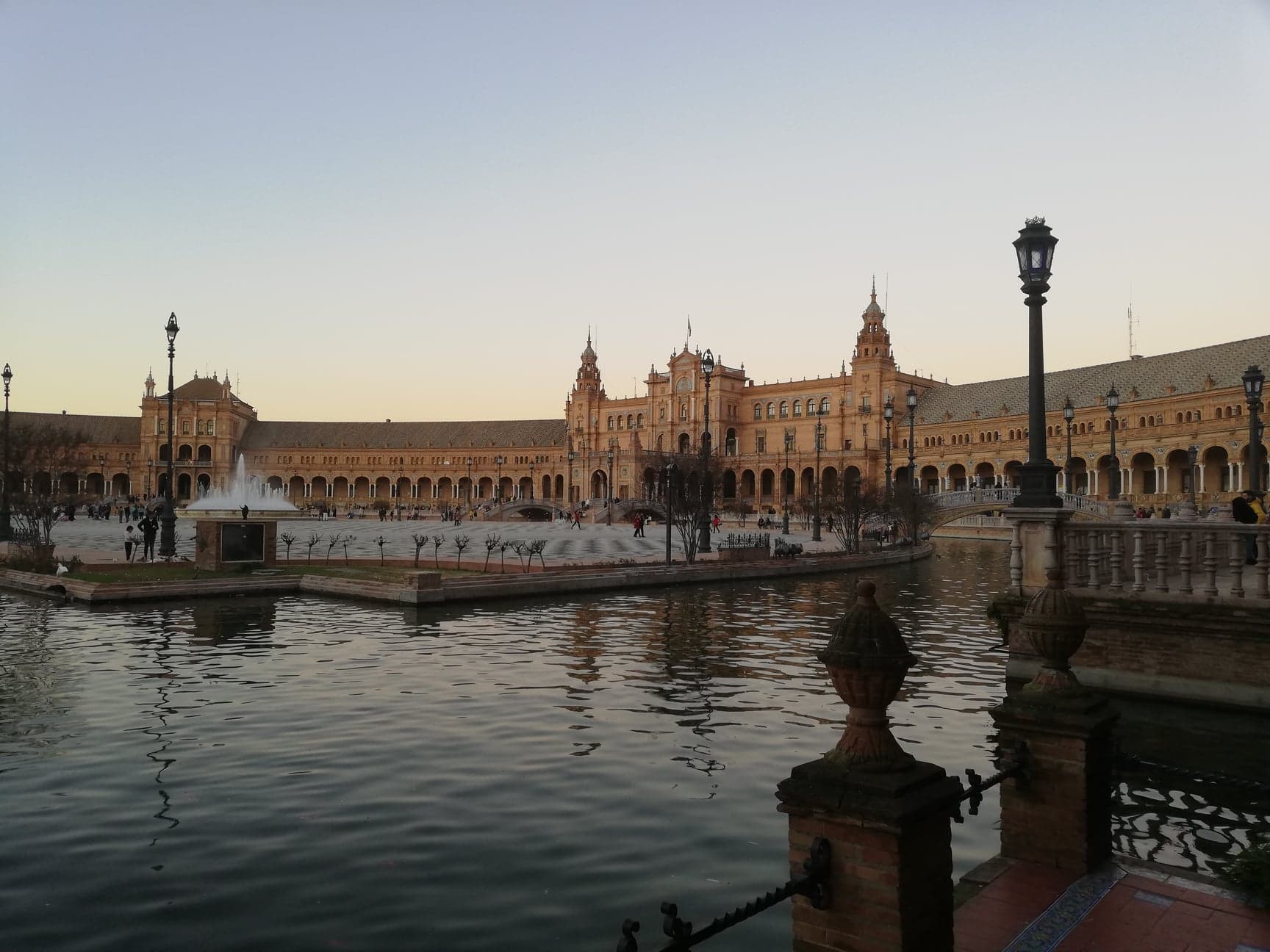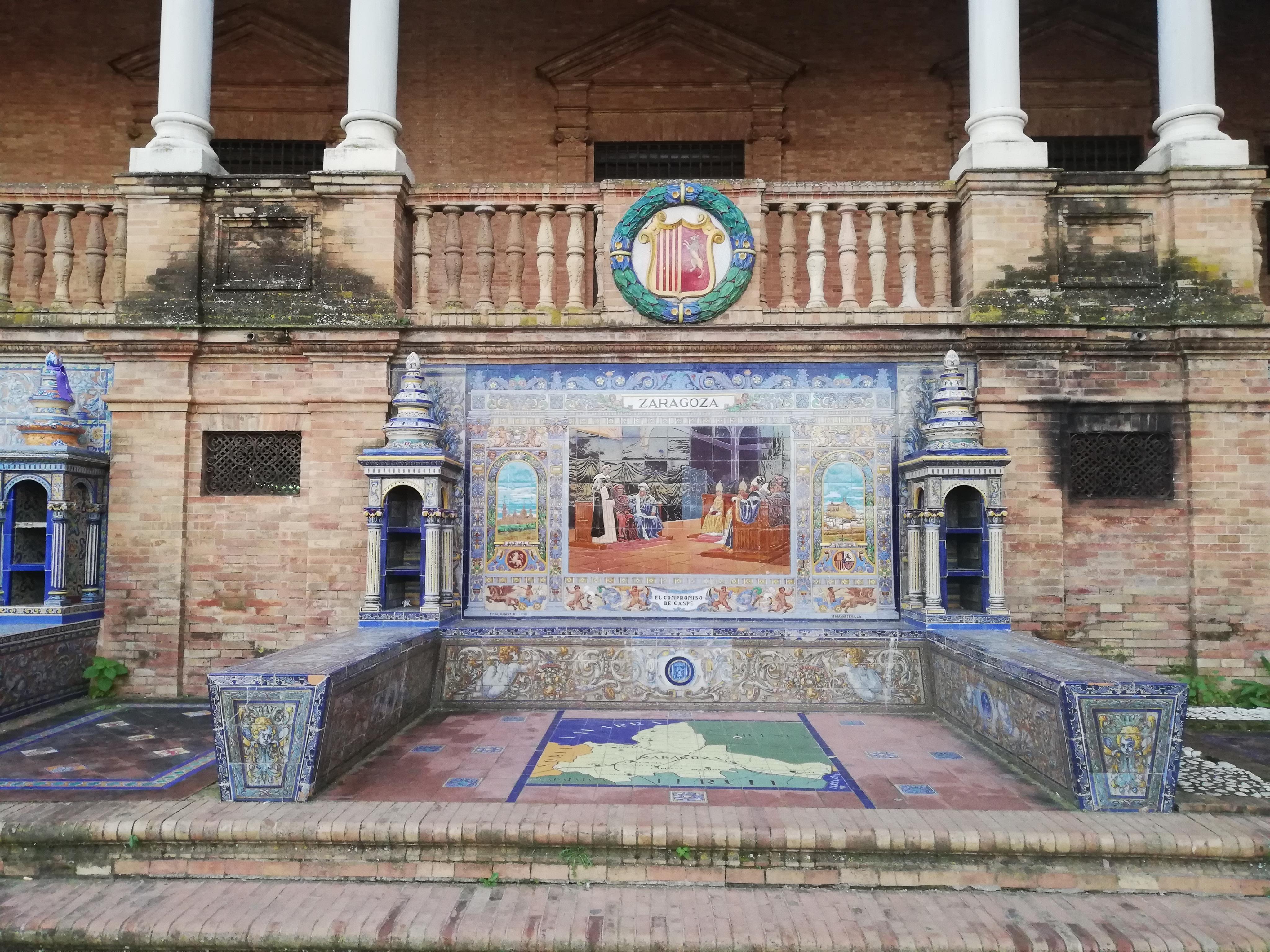 Parque de Maria Luisa – to właśnie w jego skład wchodzi wyżej wspomniany plac. Sam park jest ogromny a wszystko idealnie tu współgra. Nie mogłyśmy przestać zachwycać się jego pięknem a wieczorne spacery tu stały się naszą normą.  
[Parque de Maria Luisa – in it is composed earlier mentioned square. The park itself is huge and everything fits here perfectly. We could not stop admiring its beauty and evening walks here became our norm.]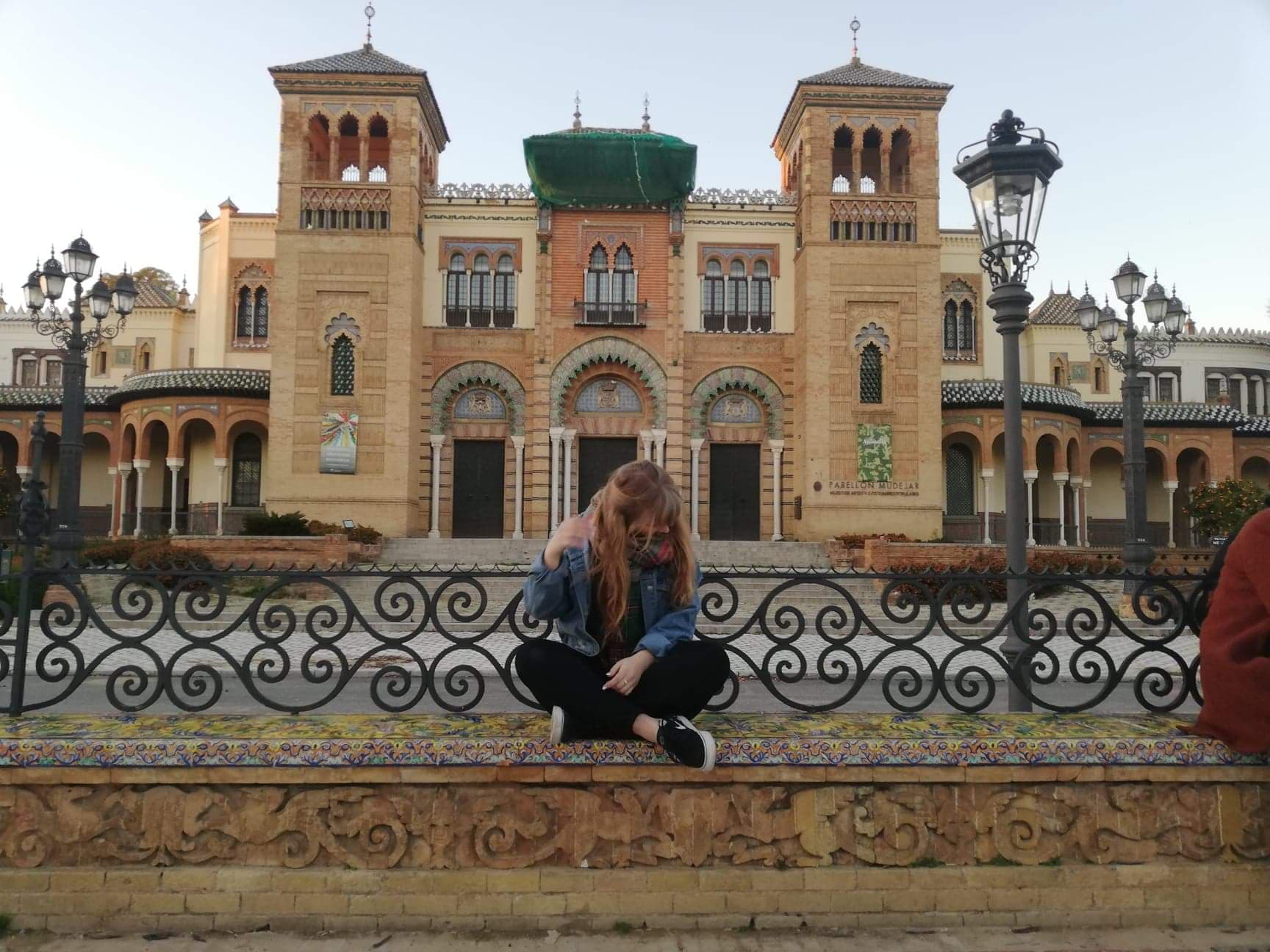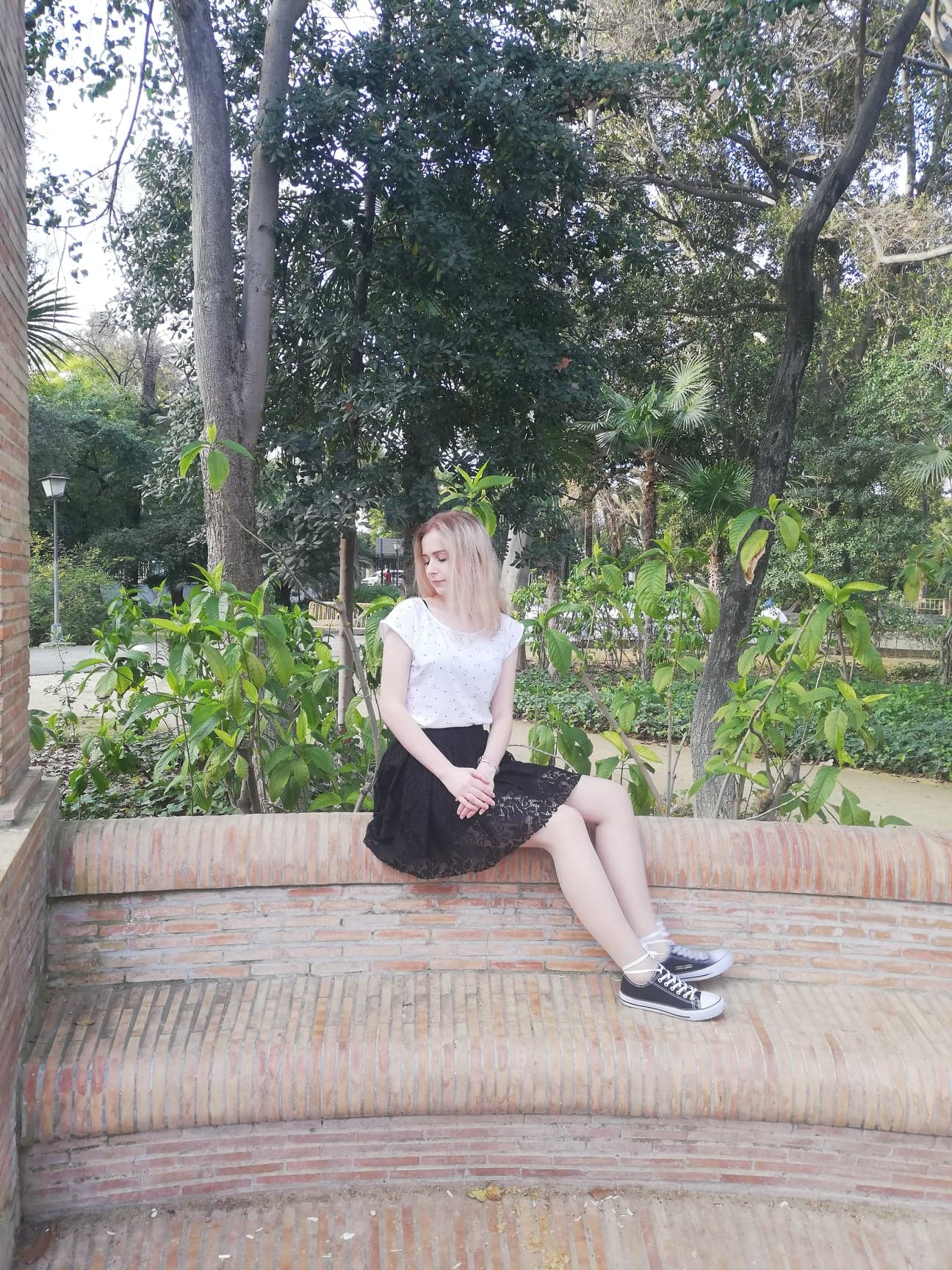 Muzeum Sztuki Nowoczesnej – wystawy często się zmieniają, my miałyśmy okazję być na jednej. Muzeum znajduje się w przepięknym budynku, a każdy koneser sztuki spędzi tu dobre kilka godzin kontemplując arcydzieła. 
[Museum of Modern Art – exhibitions change frequently, we had the opportunity to be on one. The museum is located in a beautiful building, and every connoisseur of art will spend a good few hours contemplating the masterpieces.]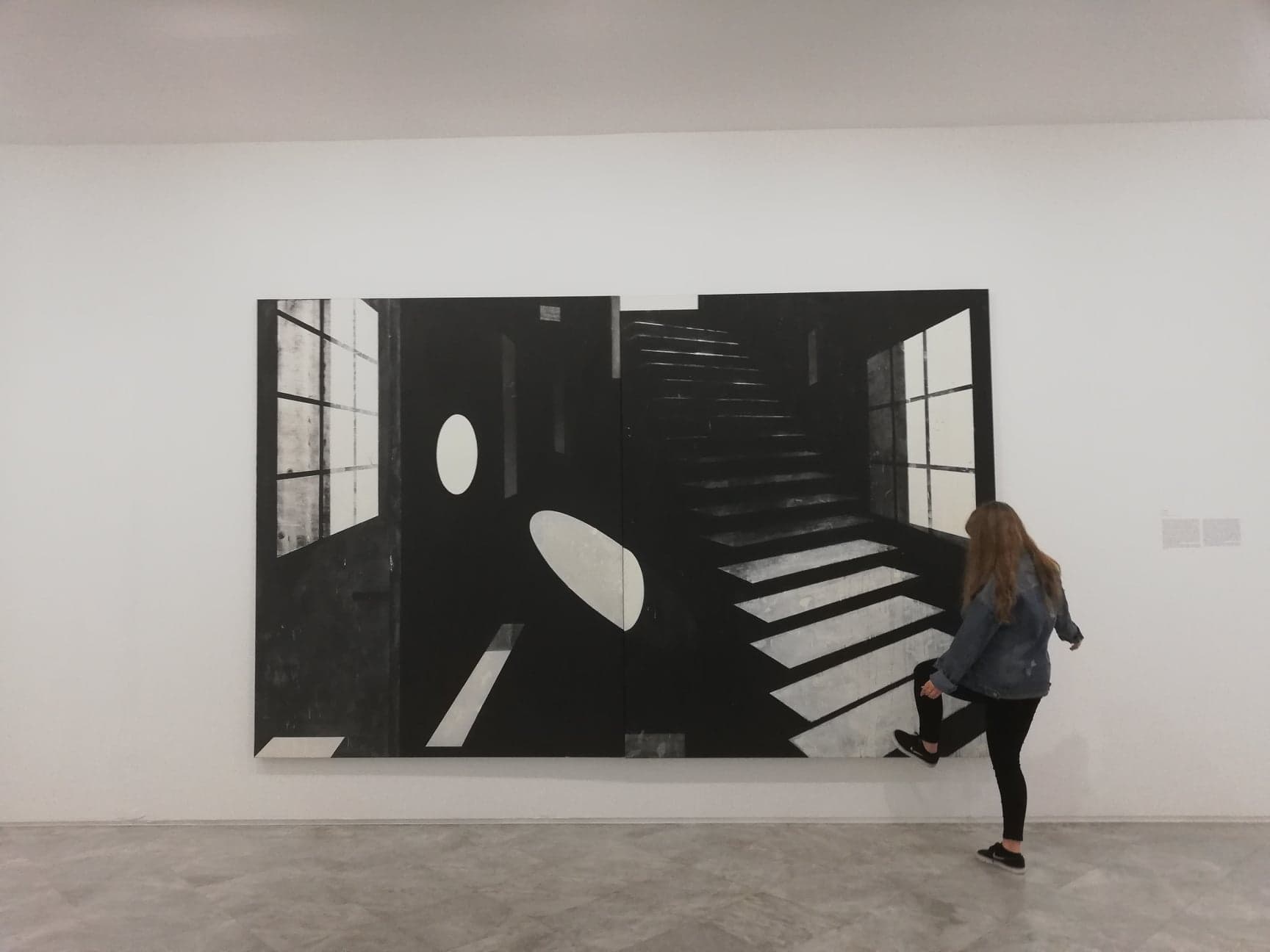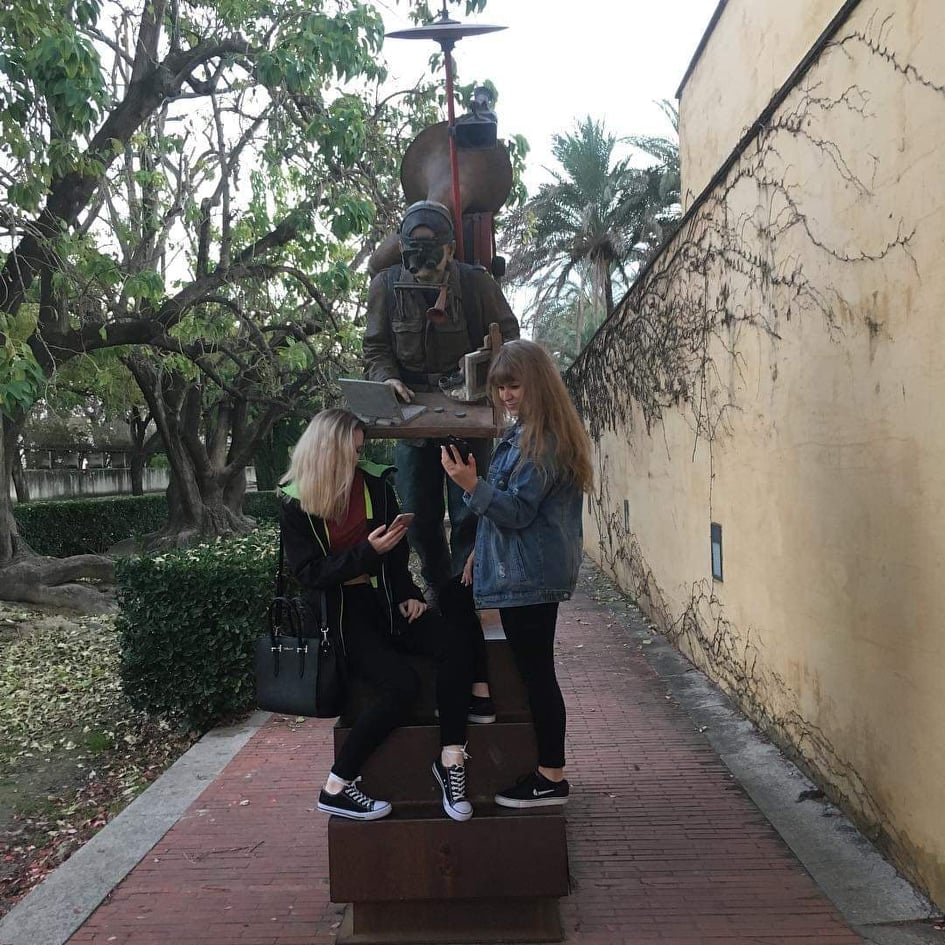 Pałac Piłata – Nazwa jest trochę mylna, gdyż wzięła się od tego, że niegdyś była tu pierwsza stacja drogi krzyżowej. Budowla wraz z ogrodami jest przepiękna. Niestety nie miałyśmy wiele czasu by w całości ją obejrzeć. 
[La Casa de Pilatos – The name is a bit mistaken, because it came from the fact that it was once the first station of the Way of the Cross. The building with the gardens is beautiful. Unfortunately, we didnt have much time to see everything.]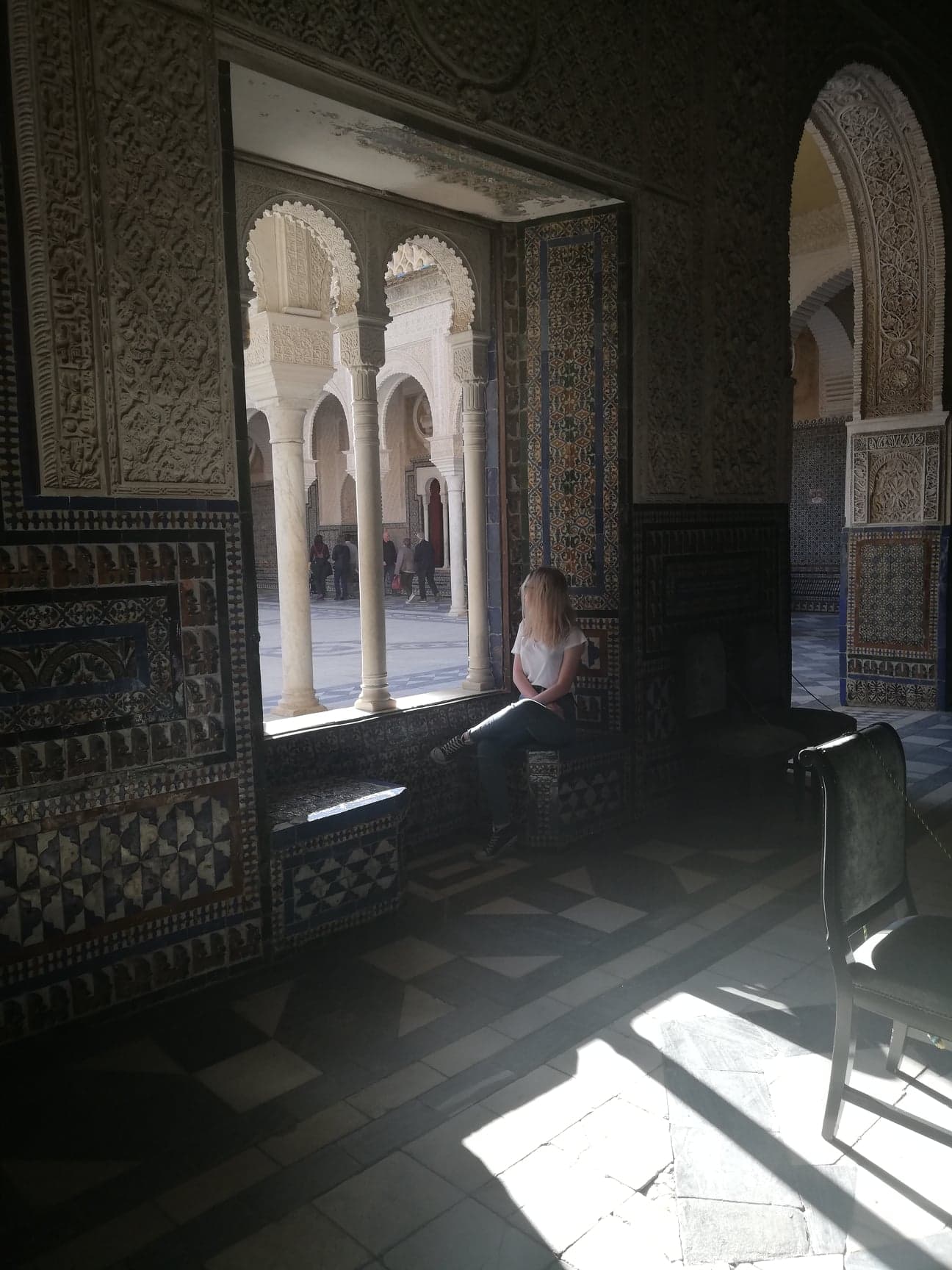 Metropol Parasol albo inaczej Las Setas De Sewilla  – miasto położone jest na dość płaskim terenie, więc wszystkie punkty widokowe są sztucznymi budowlami. "Sewilskie grzyby" są największą w Europie drewnianą konstrukcją tego typu. Nie mogłyśmy przestać podziwiać panoramy miasta jaka roztaczała się z tej budowli.  
[Metropol Parasol or Las Setas De Sevilla – the city is located on a fairly flat area, so all viewpoints are artificial buildings. «Seville's mushrooms» are the largest wooden structure of this type in Europe. We could not stop admiring the panorama of the city.]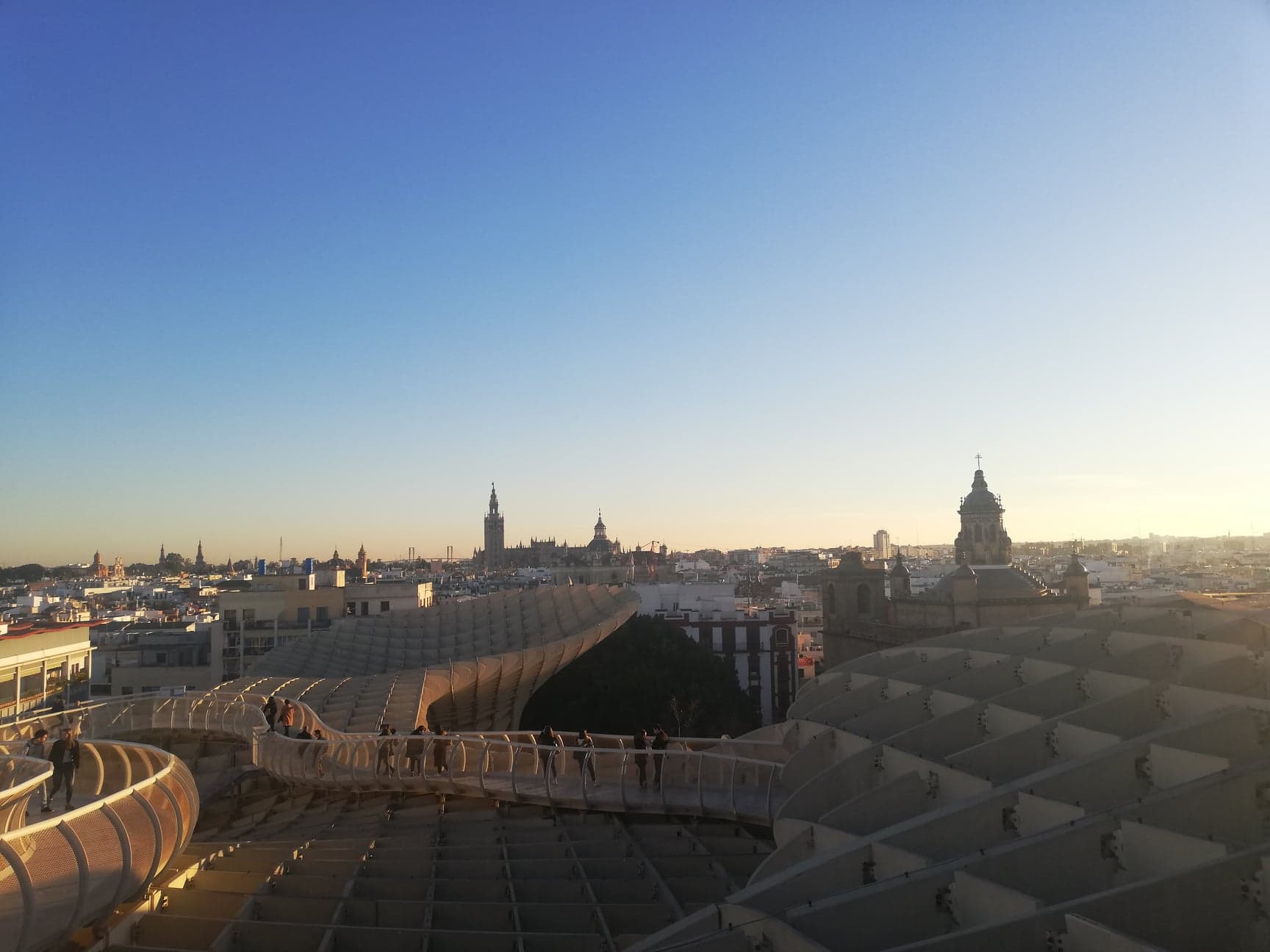 Katedra Najświętszej Marii Panny w Sewilli – w każdą niedzielę chodziliśmy do katedry na mszę, urzekła nas nie tylko wyglądem zewnętrznym ale i wewnętrznym. W katedrze odbywa się kilka mszy naraz więc postanowiliśmy że co niedziela – idziemy do innej części katedry na mszę, każda część jest wyjątkowa lecz nam spodobała się najbardziej ta, gdzie organista gra na swoich organach piękne symfonie.  

[Catedral de Santa María de la Sede – every Sunday we went to the cathedral for mass, she enchanted us not only with an external appearance but also with an internal one. In the cathedral there are several mass at once so we decided that every Sunday we go to another part of the cathedral for mass, each part is unique but we liked the most, where the organist plays beautiful symphonies.]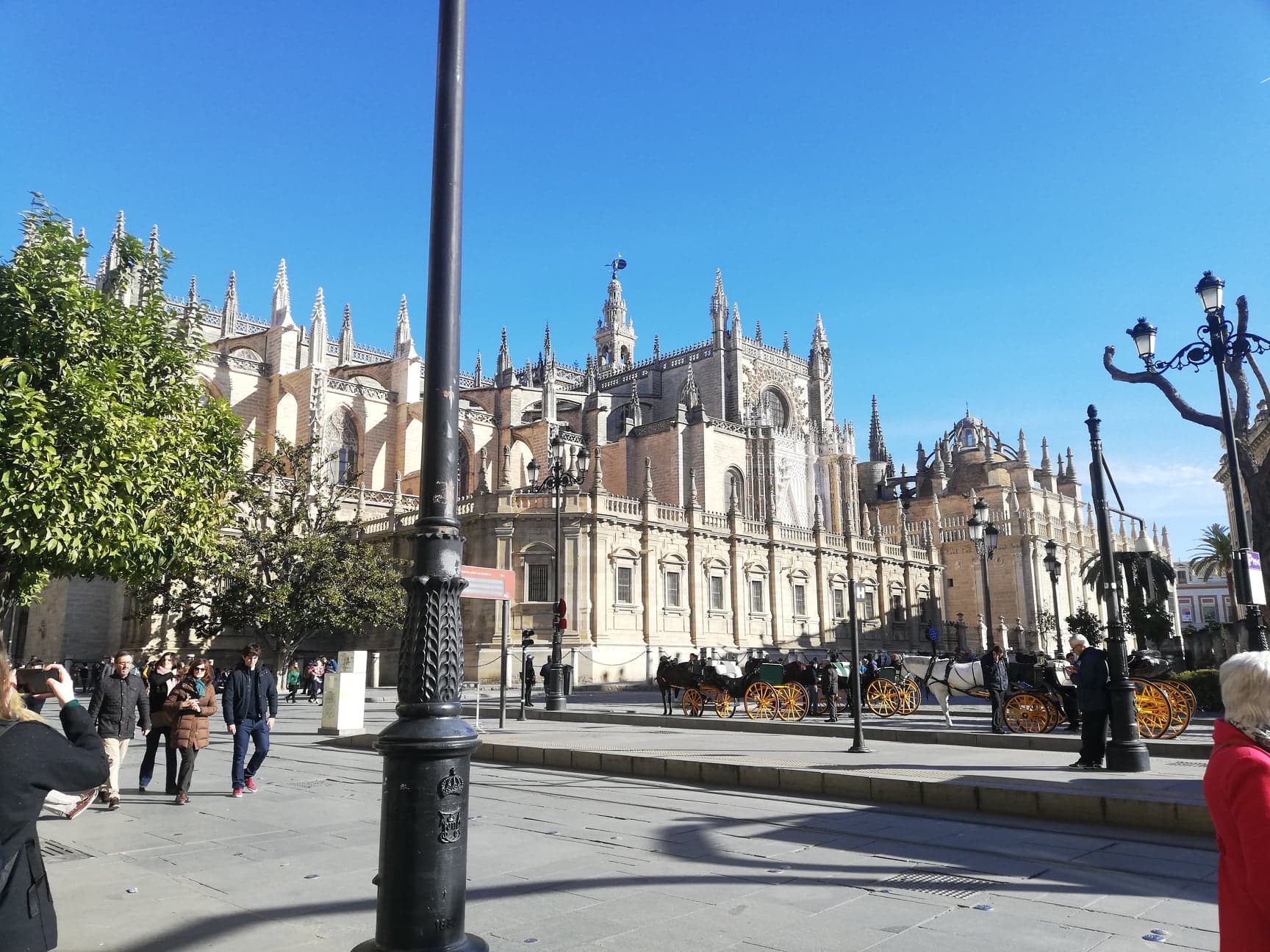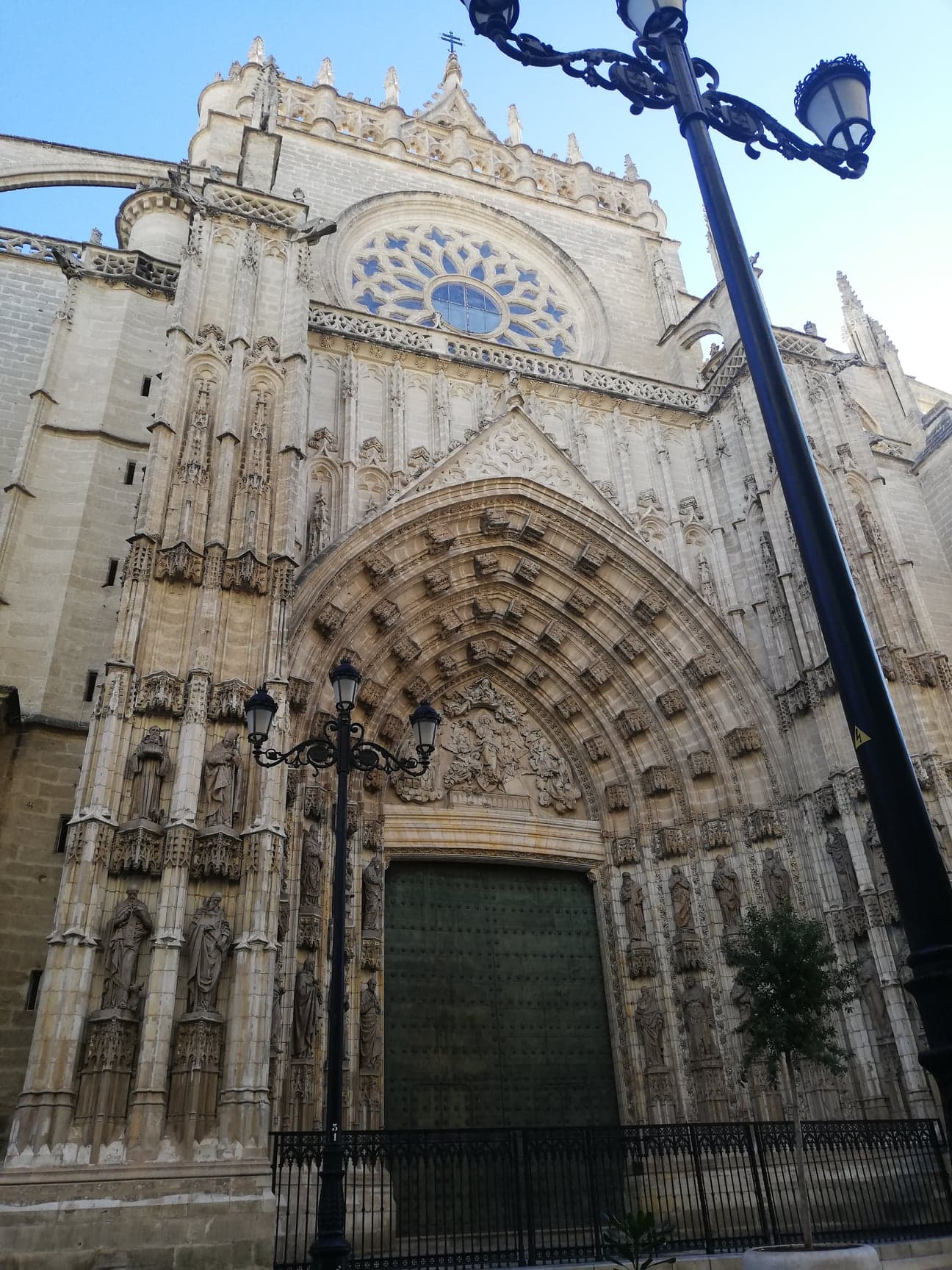 Nie mogliśmy lepiej trafić jak mieć prace obok areny gdzie odbywa się Korrida – Plaza de Toros jest miejscem walki byków , niestety nie udało nam się iść na pokaz walk, gdyż są one w innych terminach niż my jesteśmy , ale udało nam się zwiedzić arenę i muzeum. Miejsce jednocześnie piękne i straszne, gdy się myśli ile byków rocznie tu ginie. 

[We couldnt find a better place to work than next to the arena where Corrida takes place – Plaza de Toros is a place of bullfighting, unfortunately we were not able to go to the show of fights, because they are on different dates than we are, but we managed to visit the arena and museum . The place is beautiful and terrible at the same time, when one thinks how many bulls are lost here every year.]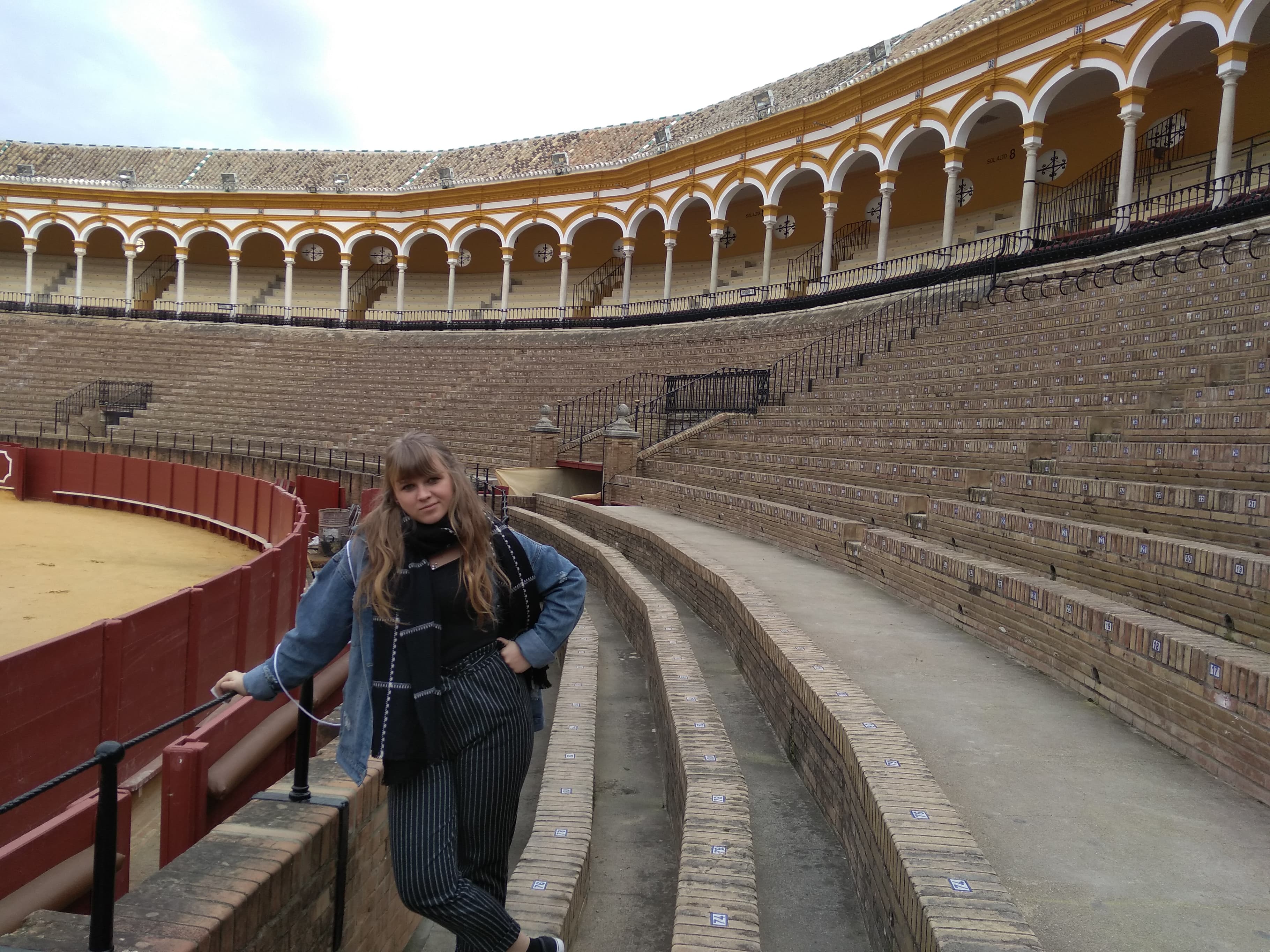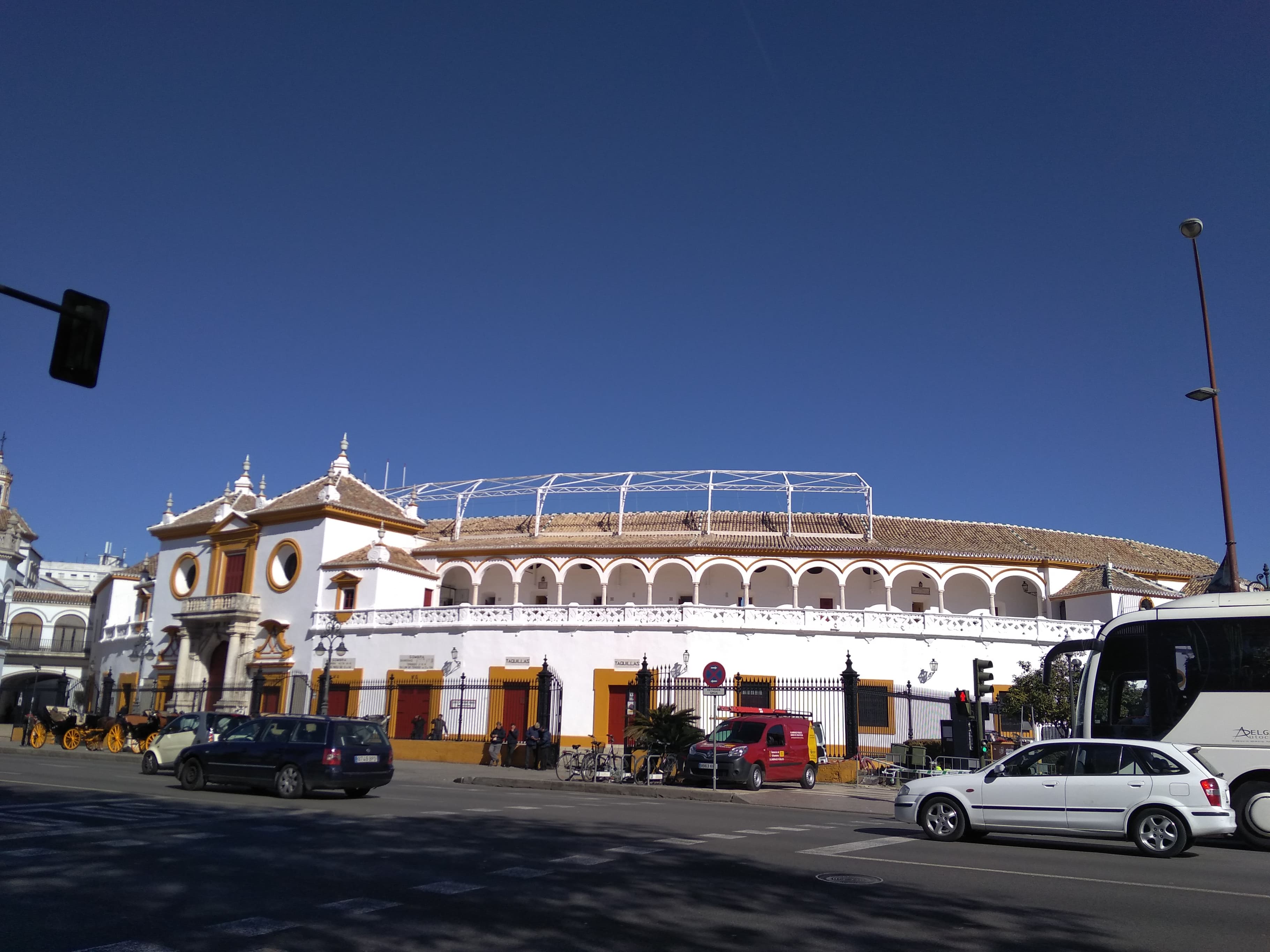 Muzeum sztuk pięknych – wchodziliśmy na pół grupą i my byłyśmy w drugiej która się dołączyła do reszty. Spodobał mi się tam Pan który nas przywitał , zapytał skąd jesteśmy , gdy usłyszał odpowiedź powiedział nam "friends is na górze " milo usłyszeć cos po ojczystym języku za granicą, muzeum piękne i warte zobaczenia. 
[Museo de Bellas Artes – we went in half a group and we were in the other one who joined the rest. I liked the place there, the gentleman who greeted us, asked us where we are, when he heard the answer he told us «friends are upstairs»(in polish language) nice to hear something over the native language abroad, a museum beautiful and worth seeing.]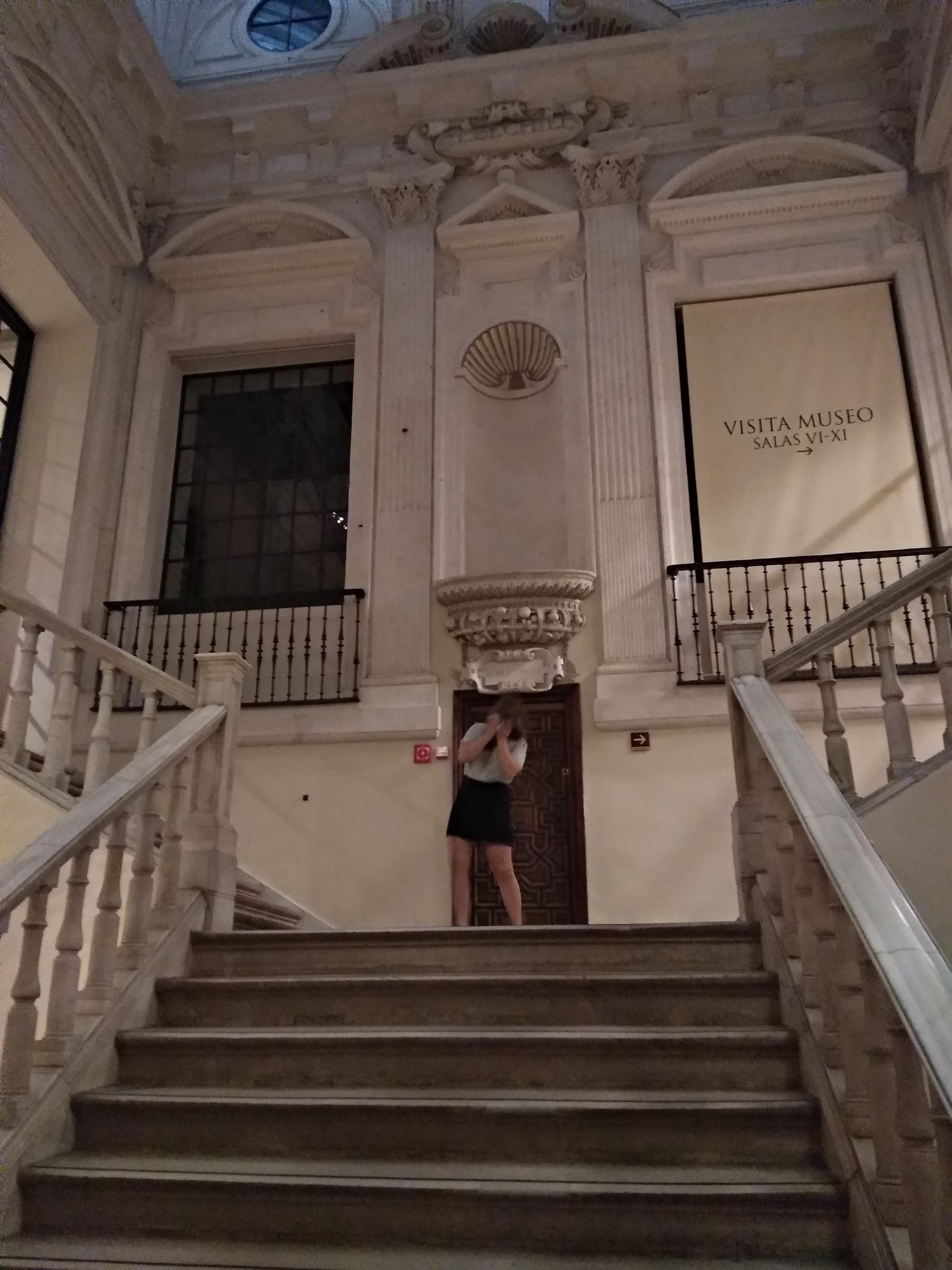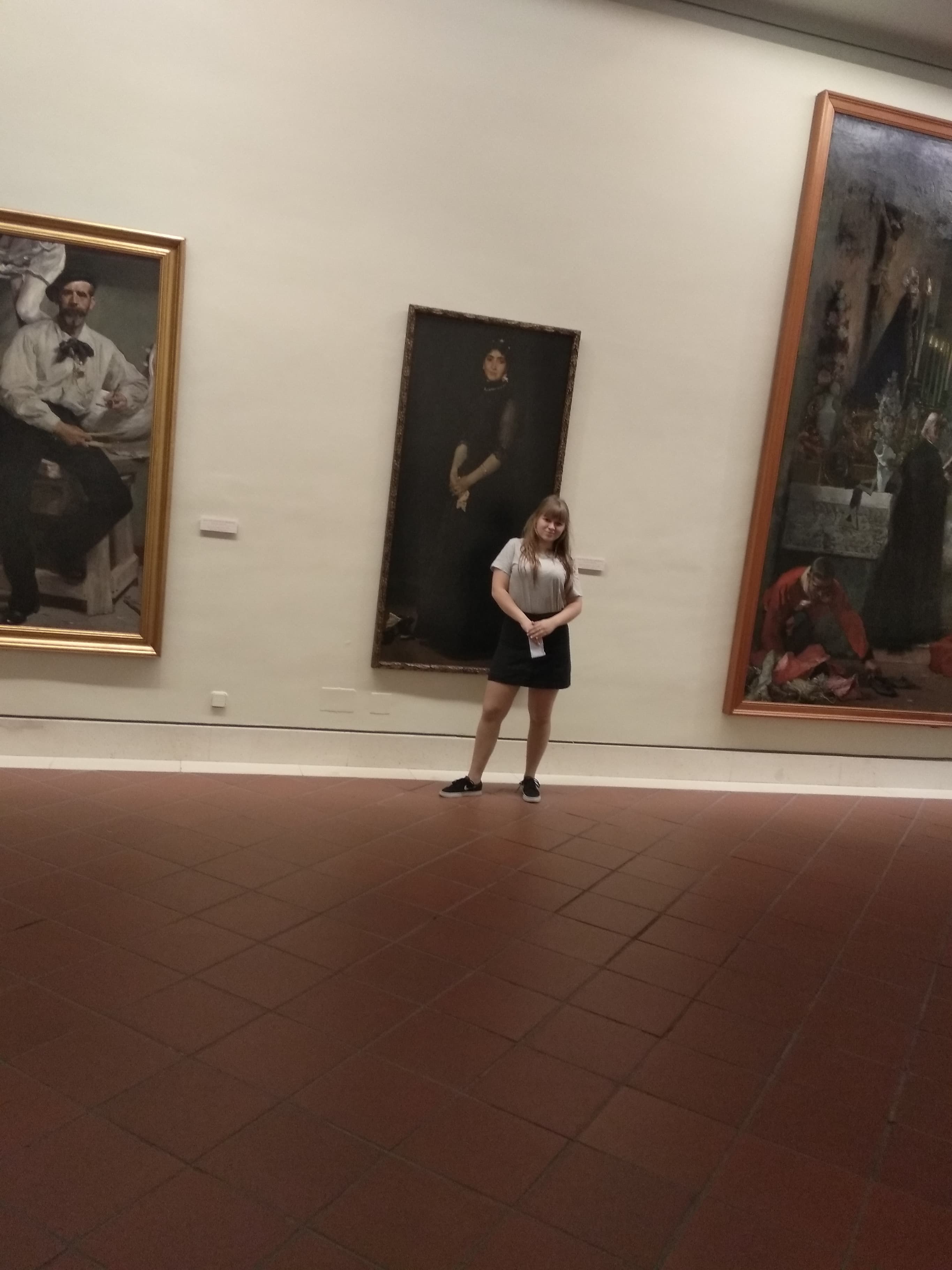 Basílica de la Macarena – bazylika warta do zobaczenia ze względu na figurę płaczącej Matki Boskiej HOPE, miejsce idealne do wyciszenia i pomodlenia się. 
[Basílica de la Macarena – a basilica worth seeing due to the figure of the weeping Mother of God HOPE, the perfect place to calm and pray.]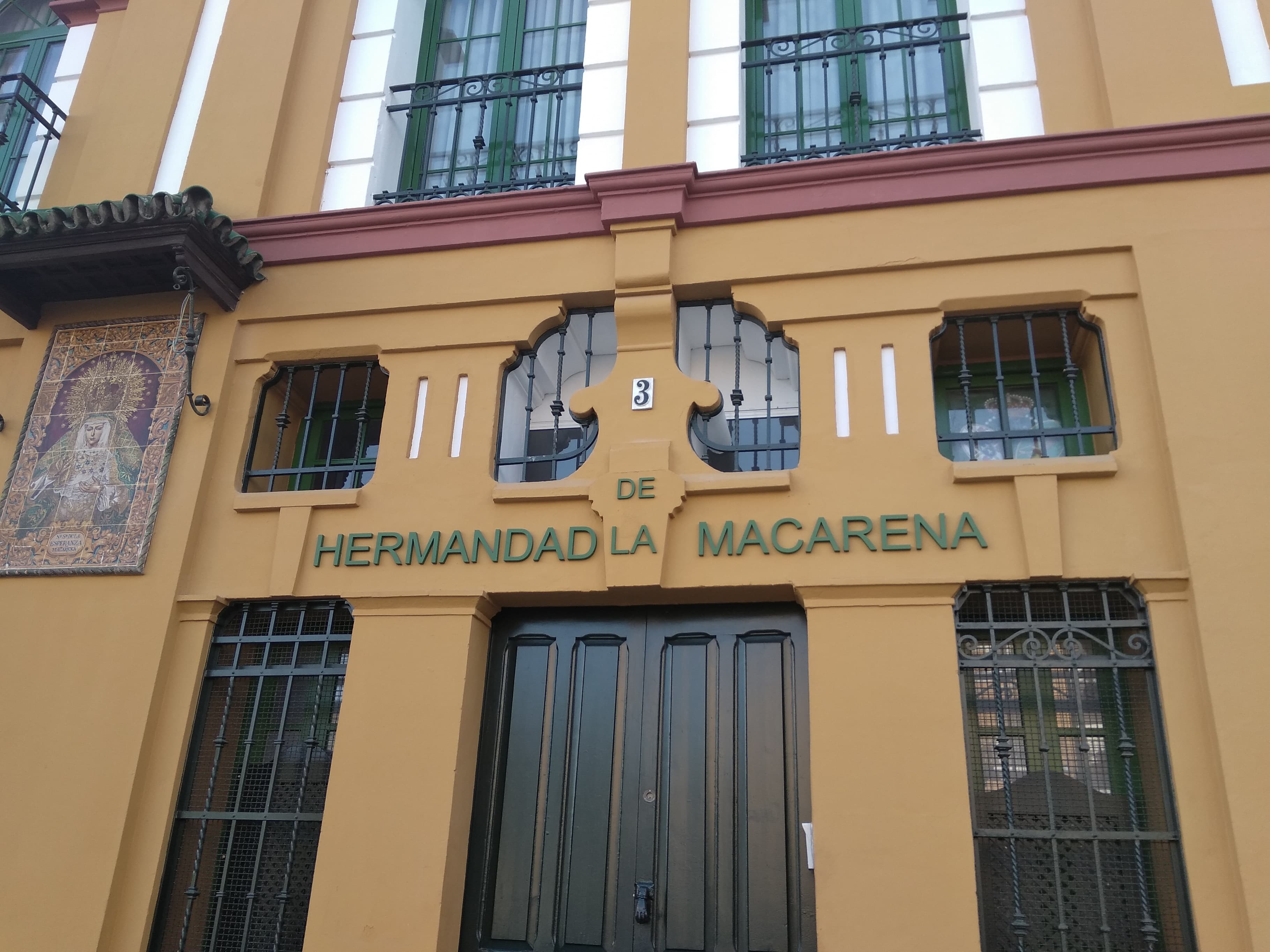 Miejsce pokazów Flamenco – znaleźliśmy miejsce gdzie za darmo oglądaliśmy flamenco, a przy okazji próbowaliśmy wina pomarańczowego – Tinto de Naranja, czyli typowo Hiszpańskiego wina. Pokaz flamenco jest to coś nie do opisania, podziwiam Panie i Panów tańczących z taka gracja i zamiłowaniem. Dodatkowa robotę robią te piękne stroje. 
[Place of Flamenco shows – we found a place where we could watch flamenco for free, and at the same time we try orange wine – Tinto de Naranja, a typical Spanish wine. Flamenco show is something indescribable, I admire ladies and gentlemen dancing with such grace and passion. An additional job is making these beautiful dresses.]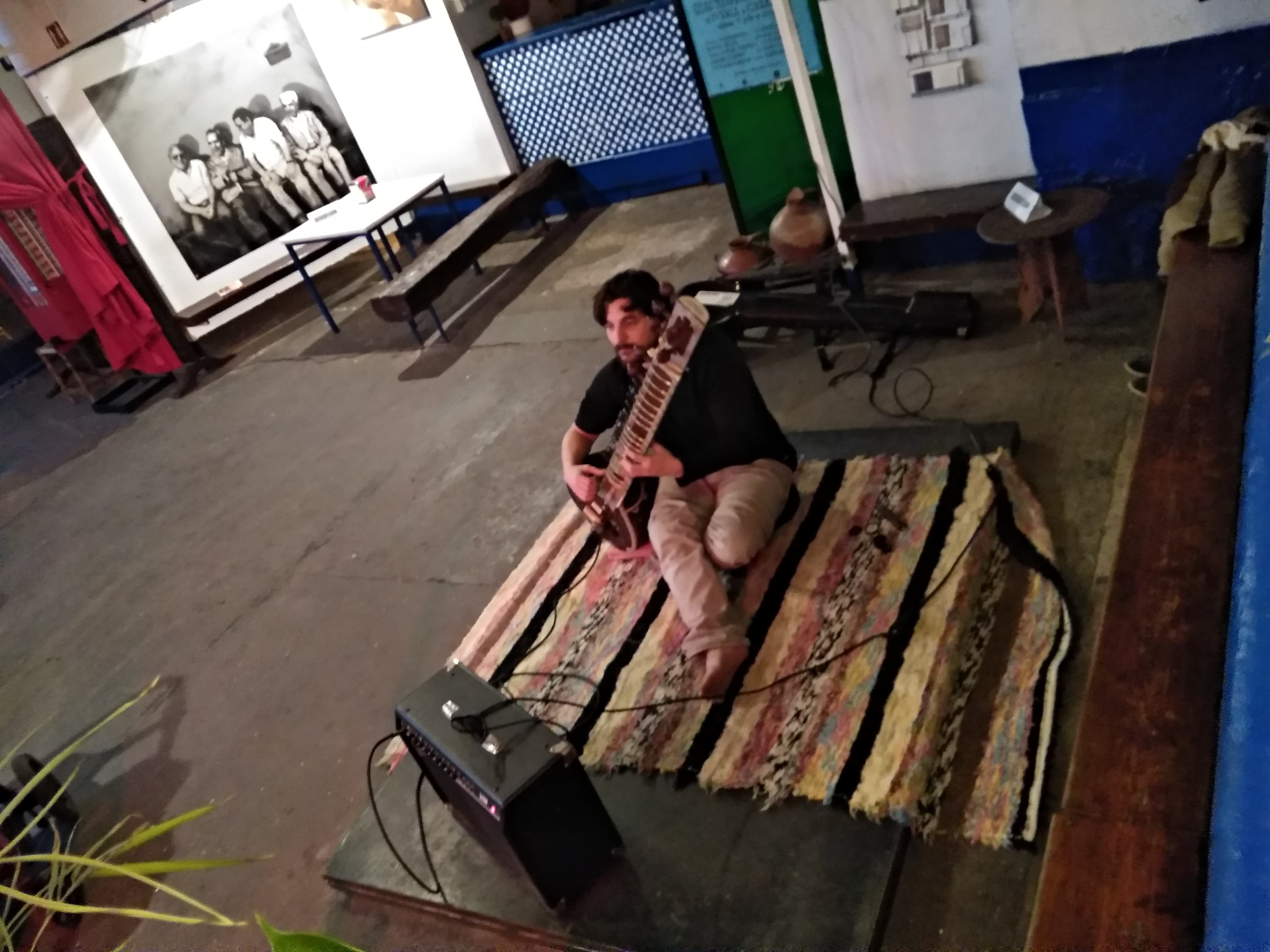 Złota wieża – wychodząc na nią można się trochę zmęczyć tyloma schodami, pomiędzy piętrami są małe muzea gdzie można zobaczyć różne wystawy, a z góry wieży można podziwiać widoki na całą Sewillę, coś pięknego.
[Golden tower – by going to it you can get a little tired with so many stairs, between the floors there are small museums where you can see various exhibitions, and from the top of the tower you can admire views of the whole of Seville, something beautiful.]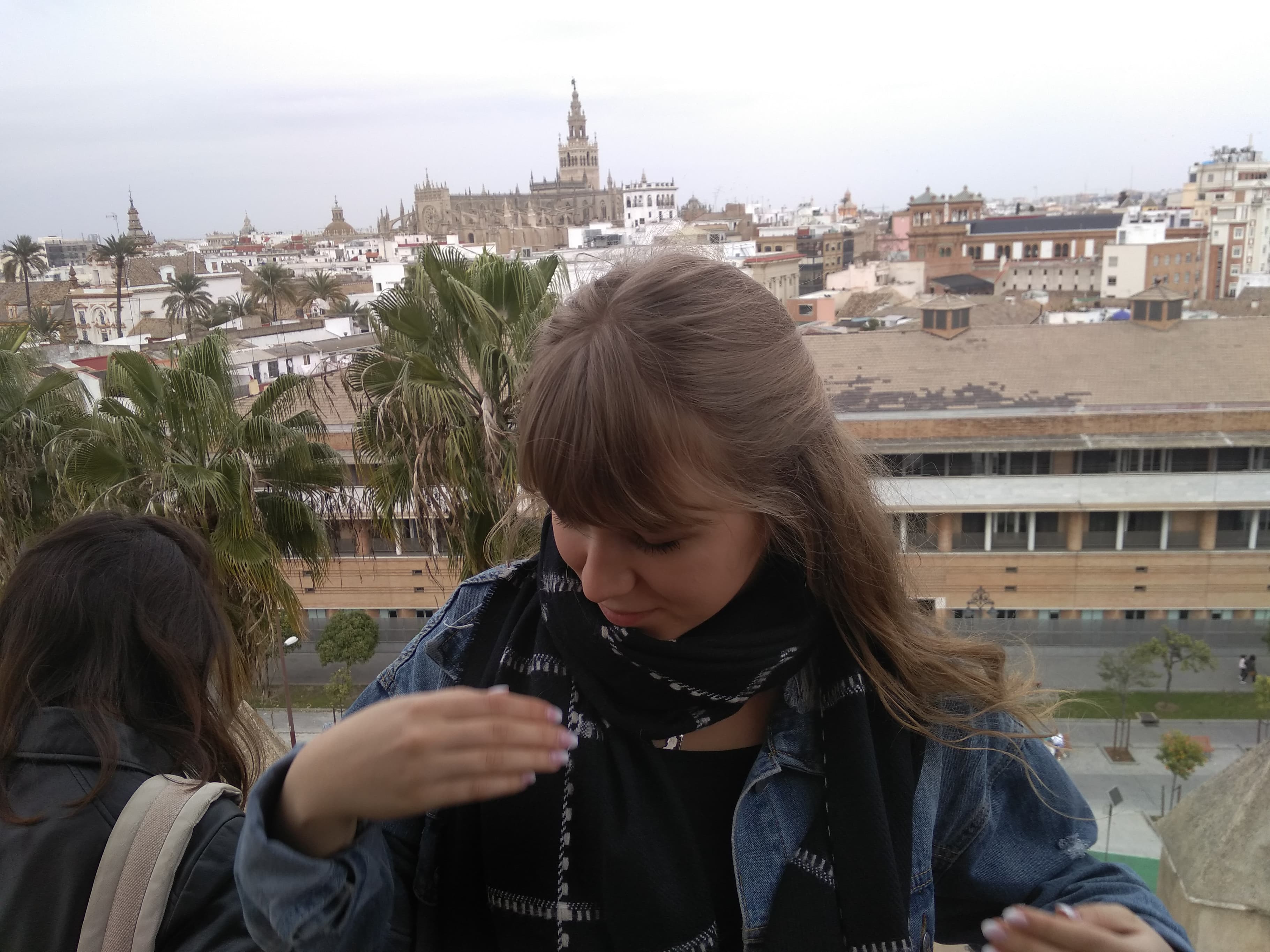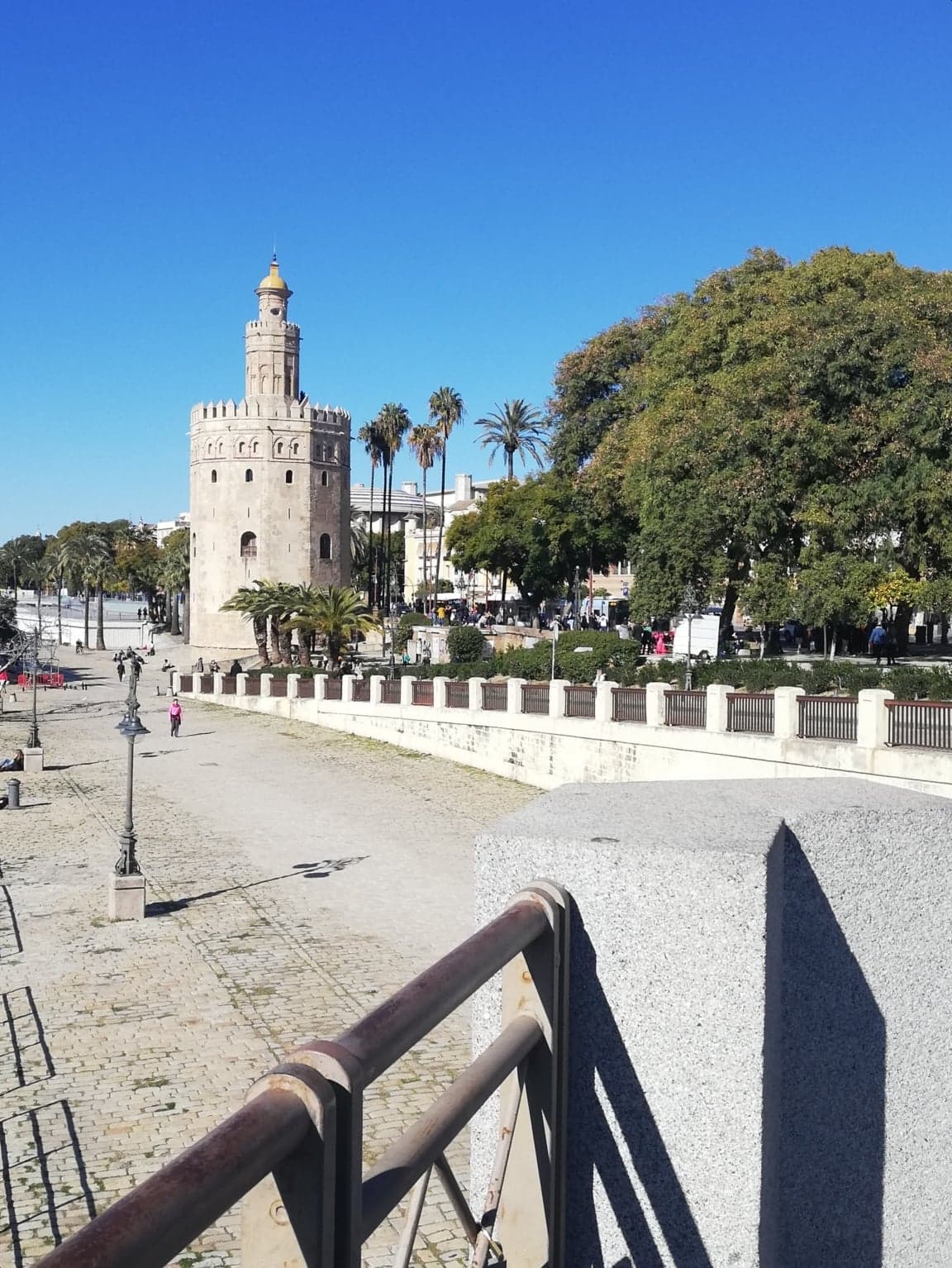 Z racji że w czasie naszego pobytu w Sewilli odbywał się mecz, udało nam się nawet zwiedzić stadion Realu Betis i być na ich meczu. Byłyśmy na meczach w Polsce ale to co dzieje się w Hiszpanii jest całkowicie inne! Reakcje Hiszpanów, śpiewy i wiara do samego końca.
[Due to the fact that during our stay in Seville the match took place, we even managed to visit the stadium of Real Betis and be at their match. We were at matches in Poland but what is happening in Spain is completely different! Spaniards' reactions, singing and faith to the very end.]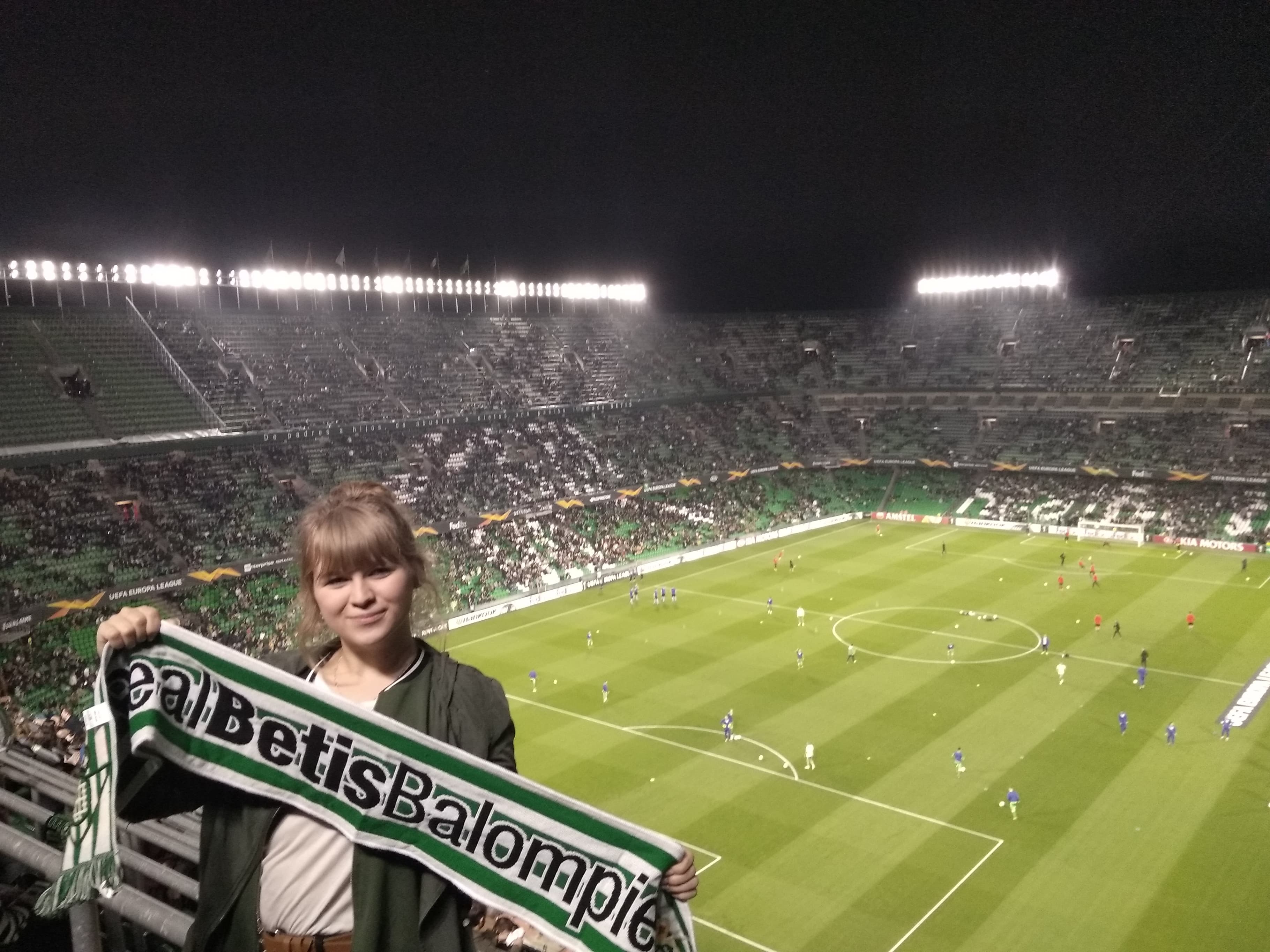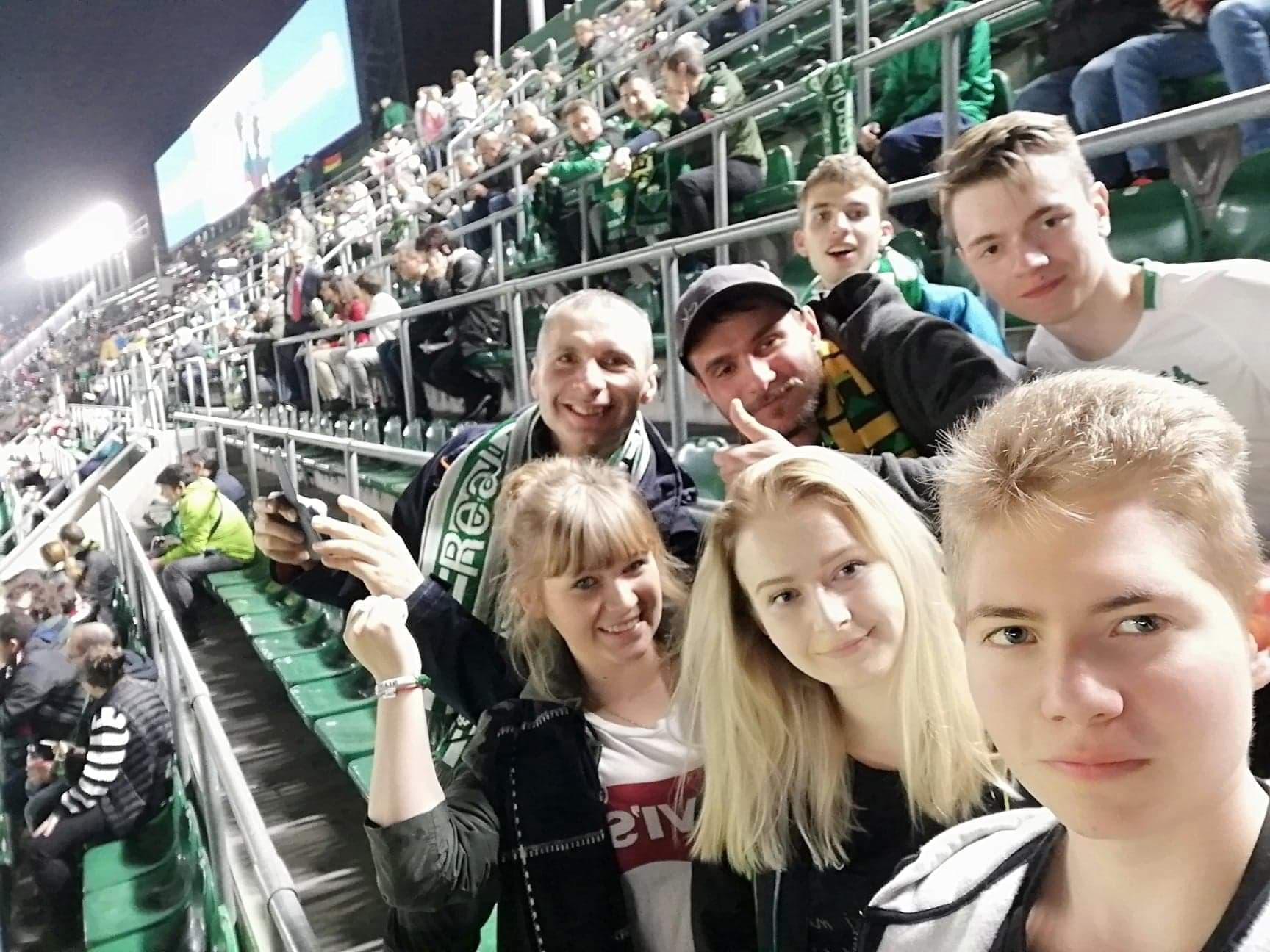 Nie mogło obyć się bez spróbowania lokalnej kuchni. Najbardziej do gustu przypadły nam nachosy z guacamole oraz churros con chocolate. 
[It could not do without trying the local cuisine. We liked the nachos with guacamole and churros con chocolate the most.]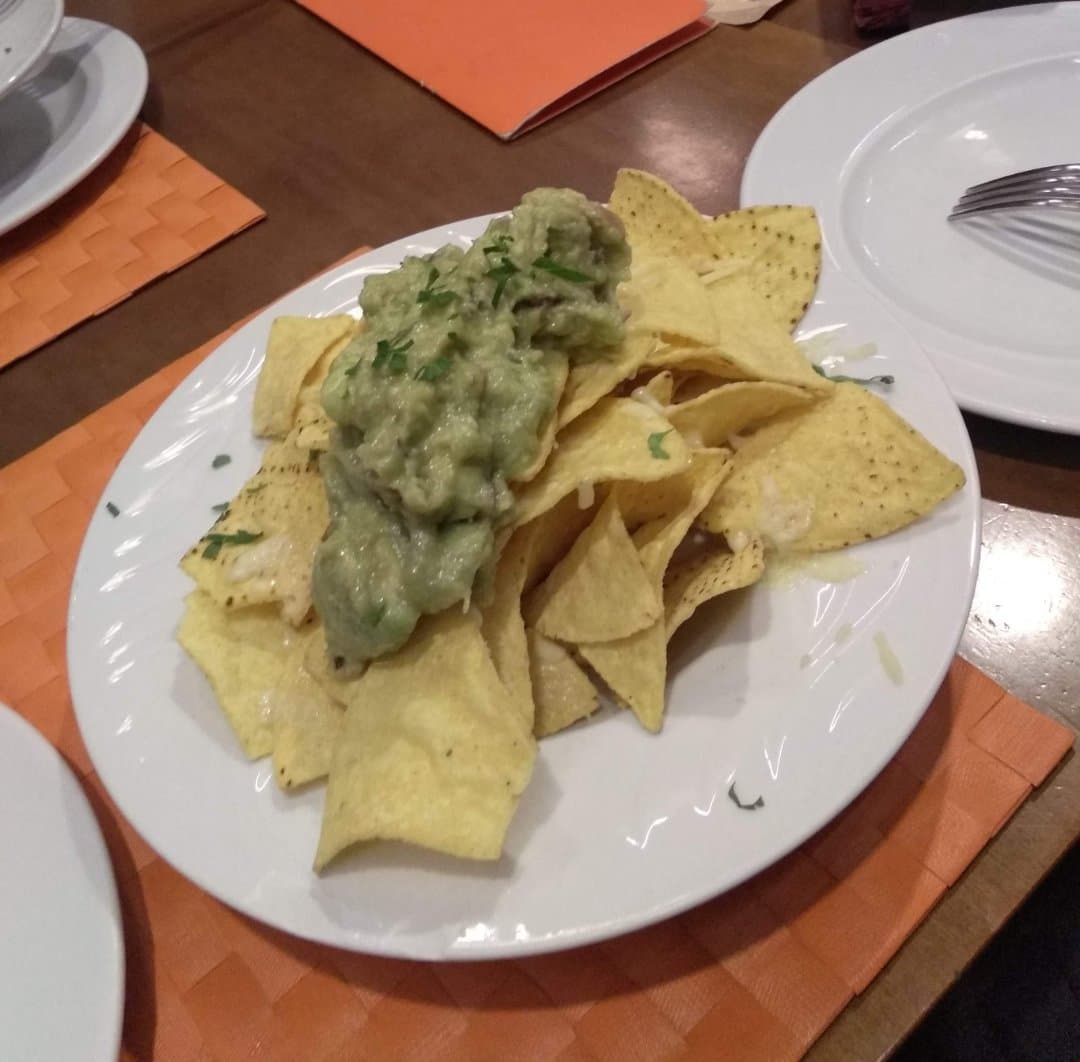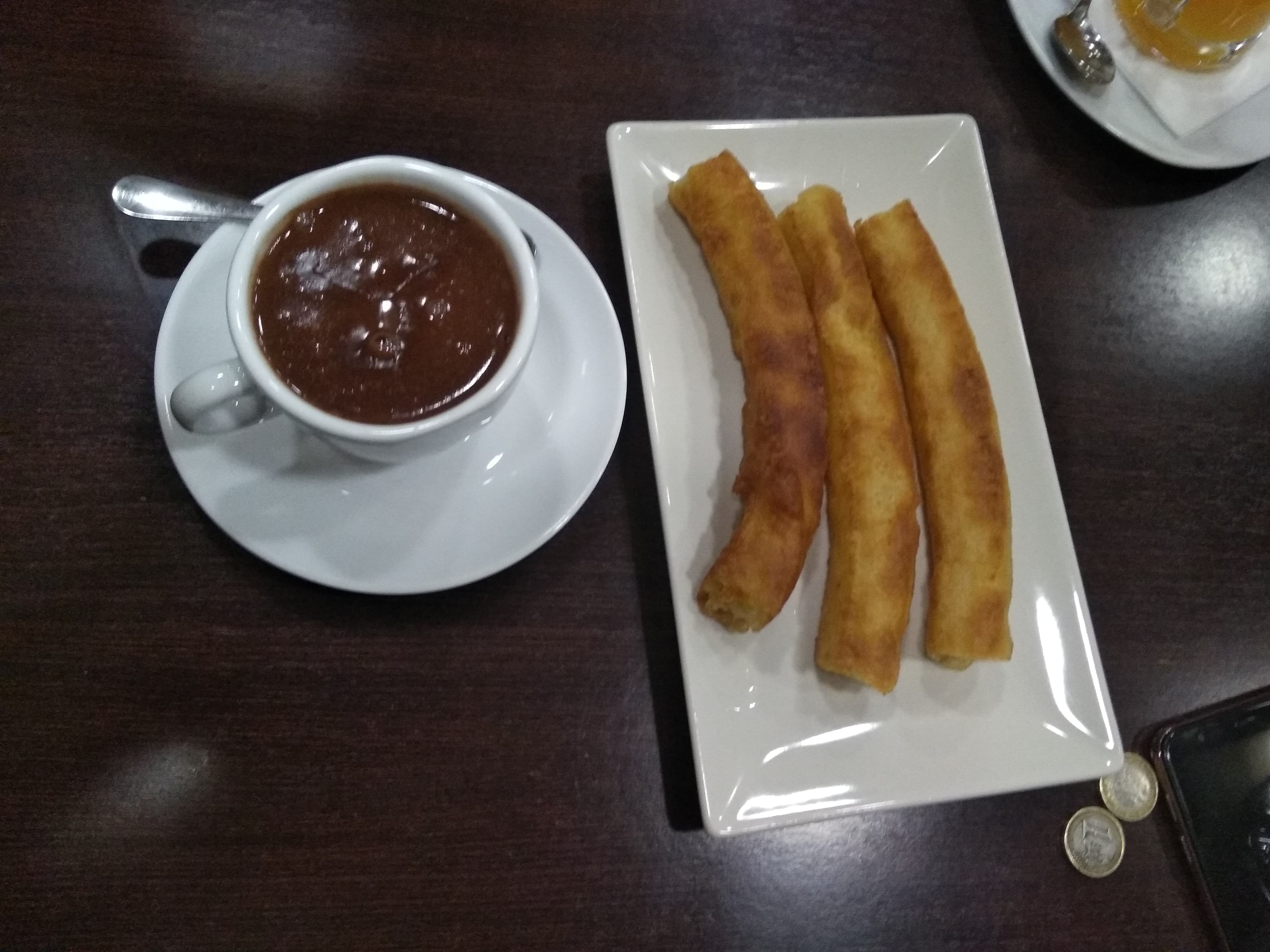 Praktyki jakie odbyłyśmy w Andalucia Experiencias były dla nas samą przyjemnością. Atmosfera jaka panowała w firmie była niesamowita, aż chciało się nam przychodzić codziennie do pracy. 
[The internships we've had at Andalucia Experiencias have been a pleasure for us. The atmosphere that prevailed in the company was amazing. We wanted to come to work every day.]
Agnieszka & Aleksandra